Testimonials ...
Jill Ham from Alaska wrote: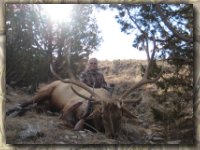 "Joe & I came to Bugle Canyon Ranch for me (Jill) to hunt a bull elk and that is exactly what I did the first day we went hunting. "Handsom Dan" was great getting me on that Big Bull. The hunt was so succesful that Joe decided to hunt himself & went with Dan and got his Peer David Deer the next day. The accomodations at this ranch were way and above our expectations, a home away from home...delicious great home cooked meals. Thank you Shannon for that. Larry, Dan, many thanks to the both of you for such a good & memorable time at "Bugle Canyon Elk Ranch" Home to come again. Regards, Joe & Jill Hom Kodiak, ALaska."
Fred and Carol of Missouri wrote:
"Fred and I would just like to thank you and your Dad for the fantastic time we had on your ranch during the Elk hunt. We more than enjoyed ourselves and all we got was way above our expectations, you did a great job and have an outstanding organization. So thank you so very much and look forward to meeting up with you again in Dallas."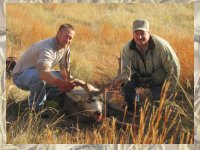 Bob of California has been here 3 times and is coming back next year. Bob states "I can't wait until next year to came back for another great hunt and get another great trophy!" He adds "The food and friendship is what makes Bugle Canyon Ranch so great."
Brad from Texas has returned three years to hunt on the ranch. Brad says "I love this ranch, you never know what to expect on the hunt. Every time its fun and exciting"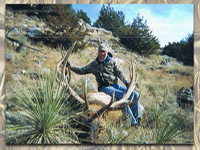 Retired Col. Cox of Texas has hunted for 35 years. He claims "It's the best!" He loved his hunt and is looking forward to coming back. Col. Cox took two trophy bulls in his hunt and plans to come back for another trophy hunt.
Thanking you for such wonderful accomodations, meals, and an experience that will last a lifetime and then some. You have made my dream become a reality of going on an elk hunt with my husband ever so special! We will be back. Carol Ann & Gordi
Tim of Nebraska says that on a scale of 1-10, "I give it a 17."
Russell from Utah said: "Thank you for a great time and a "Once in a Lifetime Bull". The cabin is wonderful and the ton of food. We stayed warm the whole time. Thanks for everything."
Skip of Virginia took three pages to tell us how much he enjoyed his hunt. About the hunt, In his words: "The terrain was certainly challenging and fun and the bull I took while we hunted was exceptional." And, about the accomodations: "Great accomodations and wonderful meals made coming in each evening one of the highlights of each day."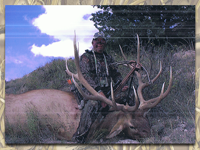 Dennis tells us that "The hunt could not have been more fantastic, and your hospitality was super."
Robert of Iowa says "I just wanted to thank you again for the most relaxing and super hunt. Everything was just the best."
Bob and Michael of Iowa tell us "It was an exciting hunt and recovery. The hills of Bugle Canyon are very challenging."
Andy of Maryland relates "I thoroughly enjoyed the accomodations in your cabin and the food was delicious!"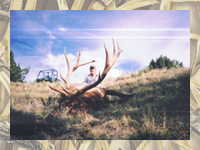 Sgt Todd said: "Thank you- So much for putting the wilderness back into me!"
And finally, Doug of Maryland tells us "Everything about your operation is first class. Your hunting area is rugged, beautiful, and full of game."
At Bugle Canyon Ranch, we work hard to ensure that the memories of your stay will be something to treasure - forever.